 Right, we've now all heard of Thiago Almada.
But the real question that's on the lips of Manchester United fans - he's been linked with you, in case you've missed it - across the globe is whether or not this latest Argentine wonder boy is really worth the hype.
Well, it looks like he might be. Currently Almada's plying his trade with boyhood club Velez Sarsfield, and the 20-year-old has earmarked himself as a star of the future with some pretty sensational performances. The one criticism you might have is that the standard of the Argentine Primera División doesn't marry up with that of Europe's 'top five' leagues - but you can easily counter that claim by realising that most players from this continent would struggle playing down in South America.
SO.
Is he good enough to make the European grade? Well, with a bit of help from Football Manager 2020, we feel confident in saying abso-bloody-lutely.
Specifically, I feel confident in saying that - because he's kicking ass, taking names and ripping the Bundesliga to shreds for me during my stint as Bayer 04 Leverkusen boss.
As of now, the year is 2023 in my save and Almada's just 21. Not much time to become a world beater then, right? Wrong.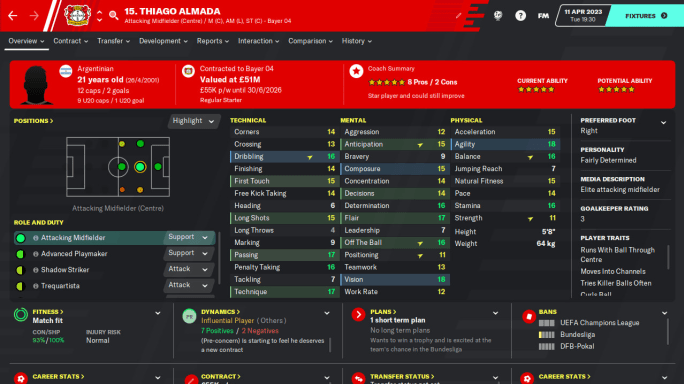 Almada's already played for Roma - they took a punt on him in July 2020 for £5.5m - and won Serie A in his first season with the club. He was then a ray of sunshine during the 2021/22 campaign, scoring 10 times and assisting five - good enough form to get me interested.
£22m and a loan back to Rome for half a year later and I'd nabbed Almada for a bargain price. I say bargain because now he's back with me in Germany, and is far too bloody good for the Bundesliga.
He's so good actually that my trusted assistant Ricardo Carvalho - yep, him of great hair and Chelsea fame - says he's a better option for me behind Timo Werner (yeah, I've got him leading the line) than Kai Havertz.
That's some praise.
Oh, and he's worth £51m - a rather handsome profit on the minuscule investment I made in the summer of 2022.
--- ---
Almada's only played 14 Bundesliga games for me so far, but is already recognised as the key player in my squad. Flanked by Erling Haaland and Leroy Sane - I've got a good thing going on, I know - he's already claimed 10 assists and has netted four times. He's real star power.
Ably supported from deeper lying roles for Havertz and Ryan Gravenberch (another player you're going to hear a lot of in the future), Almada's the key cog in my Bayer wheel and, by the looks of it, could turn out to be the best player on the game.
Now the cynics among us may say, meh, it's a one off save and he's not that good for anybody else.
But actually he is - our very own Scott Saunders managed Almada for a number of years at Fiorentina and you can see he was pretty tasty there. Meanwhile, Jack Gallagher's bossing things for Wolves while Almada makes waves - and plays in literally every position - at Milan.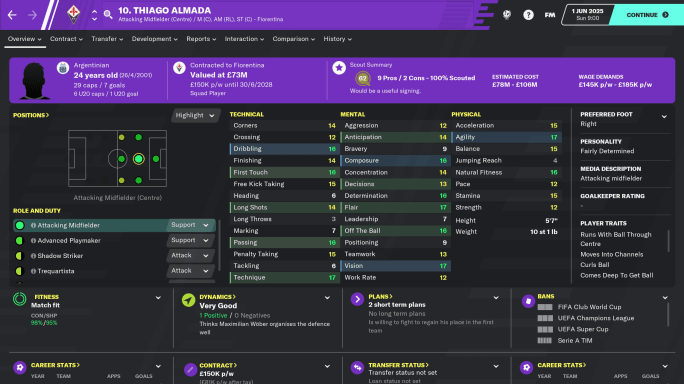 FM isn't always right, but 90min is going to go out on a limb here and say that United should throw caution to the wind. Sign Almada, get him to England.
Not exclusively based on this intel, obviously - though FM research is fundamental these days - but because a talented playmaker with an insatiable appetite for creating goals may just be the perfect complement to Bruno Fernandes' talents a little deeper in midfield.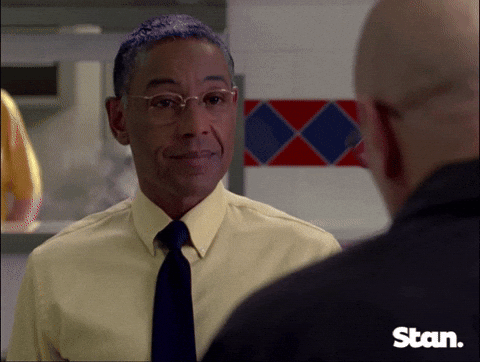 Get the deal done United, you know you want to.
---
For more from Toby Cudworth, follow him on Twitter!
Source :
90min