It's been a funny old season for the red half of Manchester.
Manchester United have suffered some humbling lows this season. Ole Gunnar Solskjaer has been on the brink of the sack more often than any other Premier League coach, and star player Paul Pogba has split fans and pundits alike following another year of rumblings of discontent behind the scenes. And yet, as we head into the final stretch of this elongated campaign, there is an optimism surrounding the Red Devils that hasn't been felt for a number of years. Solskjaer has arrested his team's slide, and without a defeat in 14 games, his job looks the most secure it's been since he took the role permanently.
Not to mention, after a disastrous run of results seemingly put Champions League hopes out of reach, the plucky comeback kids may just snatch that all-important final qualification spot after all.
As for Pogba, well, he's now got someone to play with who's on a similar wavelength in Bruno Fernandes, and the Frenchman finally looks to be enjoying his football at Old Trafford. So things are on the up, then?
Paul Pogba and Bruno Fernandes have spent 156 minutes on the field together. In that time, Man Utd have scored 5 goals and conceded 0.

Encouraging. ????? pic.twitter.com/vLtEN8aUir

— Statman Dave (@StatmanDave) June 27, 2020
You'd have to say so. And chuck an FA Cup semi-final into the mix, and the Premier League giants must be head over heels! Okay, so the grand, famous trophy is not quite what it used to be, and its value has somewhat diminished in recent years, but never rule out the power of the old girl.
In fact, Man Utd should be targeting the competition as a must-win for this season. Solskjaer knows as well as anyone that even this exciting string of results, combined with a new-found attacking outlook is not enough to silence his doubters.
No one is questioning whether the Norwegian boss can set his team up effectively, or even if he can outsmart some of the top coaches in the division. But can he win? That's the big Q on everyone's lips. Is OGS the man to transform the Red Devils from a team aiming for Champions League qualification to title challengers? Is he ruthless enough to produce a side better than all other competitors over the course of a 38-game season?
Well, the answers remain to be seen, but clues may be found in this year's FA Cup. Man Utd have to get back to winning ways, and to experiencing that feeling of success that was engrained into the club for the entirety of Sir Alex Ferguson's reign. Solskjaer knows he can't realistically target a league title in the next year, or maybe not even the next two, so stamping his authority on domestic cup competitions could send out a signal of intent to the rest of the league.
Look out guys, we're young, hungry, and we're comin' for ya.
In Man Utd's path to glory could stand rivals Manchester City or Frank Lampard's Chelsea, another manager who will be desperate to lift his first silverware as a coach in England. But with only two games separating the Red Devils from FA Cup victory, their rookie coach can surely smell the sweet glory he enjoyed as a player in that famous red shirt.
Claiming the FA Cup could be enough to convince some of their uncertain stars that this project is worth sticking around for, and it may even further attract the likes of Jadon Sancho to the Old Trafford lights. Every player wants to win trophies, after all.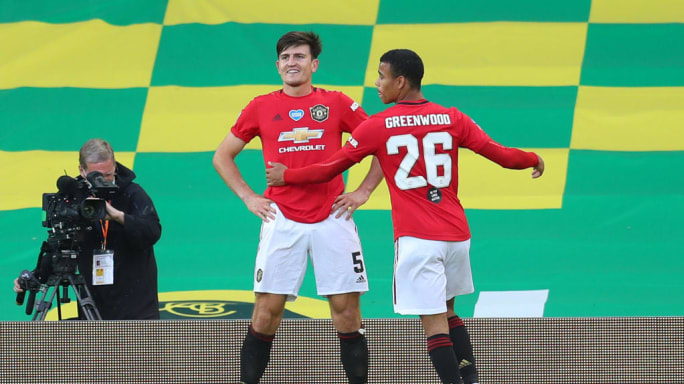 Man Utd may have only sneaked beyond Norwich on Saturday, and Solskjaer did opt to field a weakened side, but there will be no such liberties taken now that the Wembley arch is waiting to greet them.
For the Norwegian, there should be only one thought in his mind - bring the trophy home.
Prove that you're a winner, Ole. Prove that you've got what it takes to carry Man Utd back to the top. Win the FA Cup.
---
Source :
90min