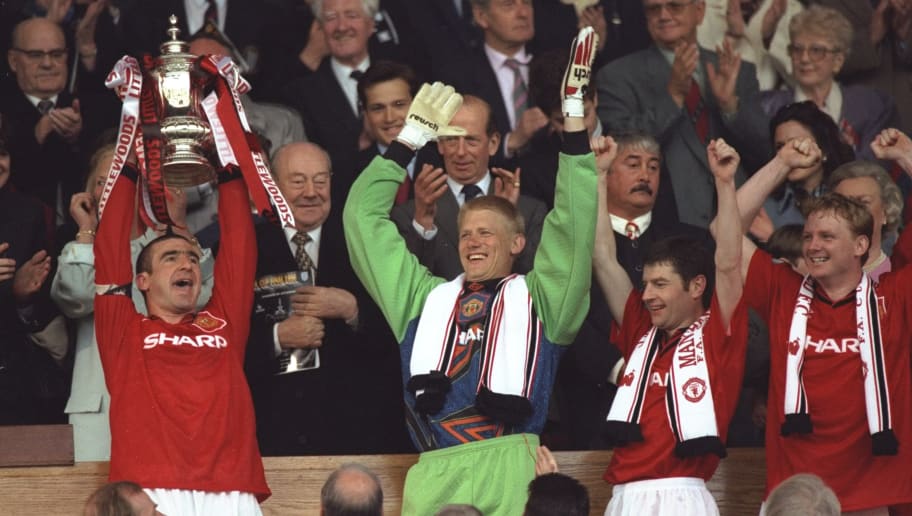 "He was born to play for United," Sir Alex Ferguson once said of Eric Cantona.
"Some players, with respected and established reputations, are cowed and broken by the size and expectations. Not Eric. He swaggered in, stuck his chest out, raised his head and surveyed everything as if to ask: 'I'm Cantona, how big are you? Are you big enough for me?'"
The Frenchman carries a status like few others at Old Trafford. United have had countless legends and heroes over the years, yet Cantona is in the very top bracket given the scale of his era-defining impact over what was actually a relatively short period of time. It was November 1992 when Cantona arrived in Manchester from Leeds for around £1.2m. He was the archetypal flawed genius, a player earlier deemed talented enough to be part of the project Marseille were building, but one who had ultimately burned too many bridges in France.
Cantona famously helped Leeds capture the title in 1991/92, before moving across the Pennines to United and doing the same. His performances in those first few months, which yielded nine Premier League goals, were crucial to his new team securing a first league trophy in 26 years.
United had won only six of their opening 16 Premier League games when Cantona was signed, but went on to finish 10 points clear in the end. As 1993 drew to a close, and having started the new season with a bang, he finished third in the year's Ballon d'Or standings.
Cantona was central to United's first ever league and cup double in 1993/94, with the club on course to retain both trophies in 1994/95. Cantona's infamous 'kung fu' kick in a game against Crystal Palace in January saw him slapped with an eight-month ban. Without their talisman, United finished just one point adrift of champions Blackburn and lost the FA Cup final to Everton. By the time he returned the following September, things were changing at Old Trafford and Cantona adapted to a new role. While he still retained his talisman status as a decisive gamechanger – as seen in four straight league games in March 1996 alone in which he scored United's only goal in each – he also became a mentor-like figure to a fresh crop of home-grown talent.
United won back the Premier League title that season, reeling in Kevin Keegan's Newcastle – who at one time had a 12-point lead in the race, while Cantona's personal redemption was complete when he netted the only goal of the FA Cup final against Liverpool at Wembley.
Neither side had been able to make the breakthrough in an otherwise fairly unremarkable final until Cantona, who led United as captain that day in the absence of usual skipper Steve Bruce, intervened with a moment of improvised genius.
Liverpool goalkeeper David James was guilty of a weak punch from corner that bounced towards United's number seven on the edge of the penalty area. Taking a swift step back to ensure his subsequent shot on goal would be controlled, Cantona sweetly stuck the ball first time through the sea of players in front of him to ripple the back of the net.
"The goal in the FA Cup final against Liverpool is my greatest ever. I volleyed home the winning goal," he recalled 20 years later in 2016. "You should ask Liverpool fans whether I ever had a poor game against their team. United always won."
Soon afterwards, Cantona was appointed permanent club captain when Bruce departed. The 30-year-old was the first name on the teamsheet and no one started more Premier League games than his 36 I the 1996/97. The same was true in the Champions League as United at last made breakthrough progress in Europe, reaching the semi-finals against Borussia Dortmund.
On 11 May 1997, exactly one year after being presented with the FA Cup as a result of his goal against Liverpool, Cantona held the Premier League trophy aloft at Old Trafford. It was United's fourth league triumph in five seasons and a fifth in six for Cantona personally.
West Ham were the opponents that day – United won 2-0 thanks to goals from Ole Gunnar Solskjaer and Jordi Cruyff – but little did fans inside Old Trafford realise at the time they were actually witnessing the very last game of Cantona's professional career. The shock announcement that he was going to walk away and retire came a few days later. He was still a week shy of his 31st birthday when he decided to call it quits.
His king-like status was underlined in the reaction to the news. 'United rocked by Cantona's abdication,' read the headline from The Independent.
United as a club were seemingly on the cusp of something very special, as would prove to be the case two years later in the 1998/99 treble winning season. But Cantona had completed his own part in the story and felt he no longer had the passion to continue.
"I was very passionate about the game and I always said that when I lost that passion, I would retire. Of course, nobody believed me but when I lost that passion, I retired. No regrets," Cantona told James O'Brien's Unfiltered podcast in 2017.
Adding that, physically, he could have played on for another five or even 10 years, he added, "I waited and said to myself, 'It will come back, it will come back, it will come back' but it never came back so I retired. It's normal, it's just honest."
---
For more from Jamie Spencer, follow him on Twitter and Facebook!
Source :
90min