Six months on from his last Premier League appearance, Paul Pogba graced a football pitch once again and took to the field during Manchester United's clash with Tottenham on Friday.
Following the game, Red Devils boss Ole Gunnar Solskjaer explained that Pogba is 'desperate' to make up for lost time.
This was evident by his display.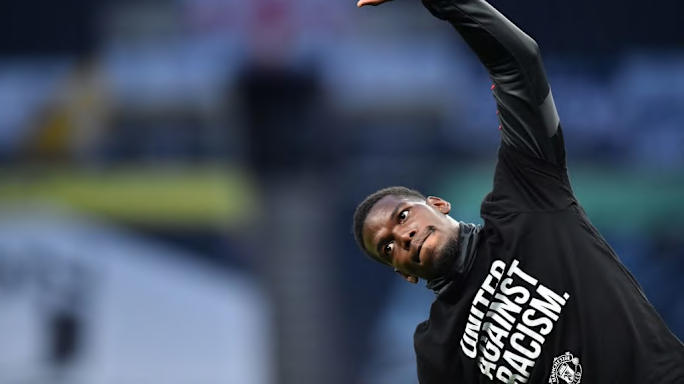 After such a lengthy period spent sat on the sidelines through injury, Solskjaer opted to leave the World Cup winner on the bench as he looked to ease him back into competitive action. With United very much in the hunt for Champions League football, a positive result against Spurs in what was their first game back after the three-month break will have been reiterated to the players from the boss.
However, while the Red Devils dominated possession in the first half, it was Spurs who went into the break in the lead after some very poor defending and an even worse attempt to save the ball from David De Gea.
Fred and Scott McTominay were selected as part of a midfield three along with Bruno Fernandes, but with Spurs closing off all areas in the centre of the pitch, the two deeper lying midfielders struggled to bring the Portuguese into the game. Fred and McTominay were forced into unimaginative sideways passes, which never really threatened the Spurs backline. A change was needed - and perhaps at half time.
Pogba was seen warming up at the break, and this was the first indication of his desire to make up for lost time. The Frenchman looked focused, ready and prepared for the challenge lying ahead, while he also looked sharp with his speed of movement.
It wasn't until the 63rd minute that Solskjaer opted to bring him and Mason Greenwood onto the field, but 27 minutes was all it took for the midfielder to remind the footballing world why he should be considered as one of the very best midfielders around.
Equally, it was another reminder that United must simply do whatever it takes to tie him down to a new deal.
Don't care how much you pay him tbh, just do whatever it takes to get Paul Pogba to sign a new contract

— Scott Saunders (@_scottsaunders) June 19, 2020
Pogba's performance had everything, ranging from his tackling and defensive work to his goal contribution. As soon as he and Greenwood entered the field, the north London side looked to drop ten yards deeper, such was their immediate impact.
The first half issues of not being able to bring Fernandes into the game as well as playing too many sideways passes no longer existed, with Pogba playing passes that weren't even visible from the television screen.
In total, the 27-year-old made 18 passes during his time on the field, with 17 reaching their target. To that end, he also played three long balls, each one of them being perfectly executed. But the figure that is perhaps the most impressive is that only one of his passes went backwards.
Paul Pogba completed 17 out of his 18 passes against Spurs, including 3/3 long balls, and was successful with both take-on attempts.

Only 1/18 passes was backwards. ⏭ pic.twitter.com/e9BznaSV1z

— Squawka Football (@Squawka) June 19, 2020
Against a team who sat back and looked to be compact, this underlines Pogba's quality. His ability to commit a man and beat him in order to find a yard of space before playing a piercing pass is unrivalled in the Man Utd squad.
His pinpoint cross-field ball which he took on the half volley to send Marcus Rashford through on goal was truly sensational. To be able to spot the pass was an achievement in itself, but to execute it with such precision was outrageous. He even showed his tackling was on point within a minute of coming on.
Then there was his contribution for the goal.
What separates Pogba from other midfielders is his all-round ability. His passing is outstanding while his athleticism is also a key attribute, but as Eric Dier found out, his skill and understanding of the game make him simply unstoppable at times.
Drifting over to the right wing, he picked up the ball and looked to isolate Dier. So confident in his own abilities, Pogba danced his way around the Englishman effortlessly despite having just a few yards of space to work in. Now the wrong side of the midfielder, Dier recklessly brought Pogba down and a penalty was awarded against him.
How many central midfielders can do that?
United fans were most excited about seeing Pogba link up with Fernandes for the first time and although they only played less than half an hour together, they proved just how dangerous they can be. With United still searching for an equaliser, Pogba drifted into space and received the ball, before playing a perfectly weighted pass into the feet of his midfield teammate. The Portuguese produced a wonderful piece of skill to turn away from his man before fizzing a pass into Anthony Martial, which sent the Frenchman through on goal.
It was beautiful, incisive football and Spurs couldn't stop them from dictating the game. It was made perfectly evident just how exciting a Bruno-Pogba partnership could be and this is something United must take full advantage of. For the first time in a long while, the Red Devils have a midfield that can challenge at the highest level. United must do all they can to get Pogba, who is effectively out of contract in 2022 because the club have the option to extend his stay by a further year, to sign a new deal. Now 27, Pogba is at a stage where he wants to be winning trophies and operating as part of a team that is competing at the top, which is more than understandable. Of course, the former Juventus man has persistently been linked with a move elsewhere in recent months, and 90min learned in April that a move to Real Madrid still remains his priority.
But if the Red Devils were to put an offer in front of him that gave him a reason to stay, why shouldn't he?
United are wealthy enough to give him whatever wages he would like, and money shouldn't be an issue. Ultimately, it is up to Solskjaer and those around him to show Pogba the club's clear vision, a pathway that takes United back to the top.
The recent improvements have been clear for all to see, but they aren't there yet. They must still look to the transfer market, and the addition of a player such as Jadon Sancho would be a real statement not just to the footballing world that United mean business, but also to Pogba that United really are heading in the right direction. 90min learned at the end of May that the Red Devils remain confident they've done enough to land Sancho when the transfer window opens. Of course, the financial impact of the coronavirus shouldn't be ignored and it is hard to envisage a scenario this summer where Real Madrid or any other club makes a reasonable enough offer that would see United willing to part ways with their star man.
Man Utd must take this opportunity and do whatever it takes to get Pogba to sign a new deal. A pay rise, signing a friend of his.....even, giving Mino Raiola a reason to side with club - United must do absolutely everything not to lose the player for a second time.
Now 12 games unbeaten, there are encouraging signs, but the number one objective for United if they wish to secure his services for the long-term is they must show the World Cup winner that they're willing to invest in both him and in the market to ensure that they are competing for titles in the not-too-distant future.
---
For more from Adam Aladay, follow him on Twitter!
Source :
90min