 In a season of up and downs so far for Manchester United, fans can't deny that it's very slowly beginning to feel like the club is making some sort of progress. Ole Gunnar Solskjaer has took permanent charge as head coach and began to clear some of the deadwood in an attempt to pull United back to square one and properly rebuild once more.
Failing to replace striker Romelu Lukaku last summer was a risk, and one that looked silly when Marcus Rashford was ruled out with a fracture in his back in January. Since the turn of the new year however, fortunes have changed thanks to the signing of Bruno Fernandes. The Portuguese midfielder has immediately injected a new lease of life into every aspect of the club, which has seen them enjoy an upturn in form.
Our first three matches of the 2019/20 #PL restart have been confirmed! ?#MUFC

— Manchester United (@ManUtd) June 5, 2020
Since a disappointing 2-0 loss to Burnley on 22 January, United have been unbeaten and managed wins over Chelsea and Manchester City. Their latest victory was a coronavirus-affected 5-0 thrashing of LASK, behind closed doors in Austria.
Currently sitting fifth in the Premier League on 45 points, every minute of their nine remaining league fixtures will be vital in deciding their European fate next season. The returning Paul Pogba and Marcus Rashford will provide a boost, but will also need to hit the ground running.
---
Matchday 30 - Tottenham Hotspur (Away) On the return of the Premier League, Solskjaer's United visit north London to face Tottenham, managed by former United boss Jose Mourinho. Solskjaer was the man to step up after Mourinho lost his job at Old Trafford in December 2018, which immediately makes this match an interesting one.
While both sides are desperate to resume with a victory in a bid to secure Champions League football next season, Manchester United will head into the game full of confidence, knowing they have a fully fit side including a potential Pogba/Bruno Fernandes link up.
Spurs will be no pushovers, however, and Mourinho won't be naive to the importance of the game. Expect his side to play a careful game, and Manchester United to look to counter at every opportunity. A tense and close contest, but the confidence around United will just see them edge past Spurs for three points.
Verdict: Win
Points Tally: 48
---
Matchday 31: Sheffield United (Home) Sheffield United have enjoyed an extraordinary return to the Premier League in their first season back in the top flight, currently sitting in seventh on 43 points.
They drew with United in a fine encounter earlier this season, with Chris Wilder's side finely tuned to pick apart opposition no matter how big the task might seem. The Blades' organisation and tactical awareness is seriously impressive, and Manchester United will no doubt struggle once again to break down such a well-oiled side.
In typical United fashion, the hard work of a win away to Tottenham will be undone with a disappointing loss at Old Trafford. Sheffield United will continue to impress with a victory.
Verdict: Loss
Points Tally: 48
---
Matchday 32: Brighton & Hove Albion (Away)
A loss at home is unacceptable in the race for the top four, no matter how good the Blades have been this season. Solskjaer's side will look to bounce back with a statement victory down south versus Brighton, who are in a scrap at the bottom of the table as they look to avoid relegation.
The Seagulls have scraped points through a number of draws recently, but haven't actually found a league win since December. It's by no means awe-inspiring form, and United will look to capitalise on that in order to get back on track.
Brighton do have some valuable assets in the side who could cause United some problems, think Neal Maupay, Leandro Trossard and Glenn Murray, but ultimately they will struggle to contain the firepower of a fully fit United squad. Expect Bruno Fernandes to pull the strings here.
Verdict: Win
Points Tally: 51
---
Matchday 33: Bournemouth (Home) Another side locked in a relegation battle, it's fair to say that Manchester United have a somewhat favourable run of fixtures after their opening two, without being too harsh on their opponents.
Eddie Howe's Bournemouth have seriously struggled to find any real form this season. They sit in 18th place on 27 points and are at serious risk of dropping down to the Championship for the first time since 2014/15. They did sneak past United with a 1-0 victory in November, but may struggle to do the double.
United cannot afford to be dropping any points in this patch of favourable fixtures, and will be out to avenge that loss from earlier in the season. Three points.
Verdict: Win
Points Tally: 53
---
Matchday 34: Aston Villa (Away)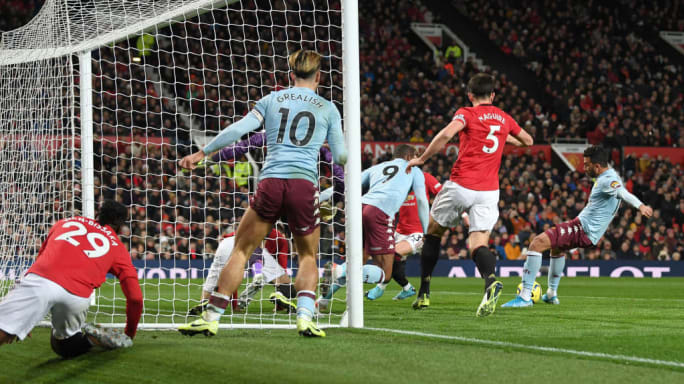 Doing slightly worse than Bournemouth, Aston Villa sit in 19th and will hope that Jack Grealish can produce a miracle to keep them in the Premier League, before he inevitably leaves in summer.
United have been continually linked with Grealish in a bid to further bolster their midfield, but will hope they can keep him quiet as they visit Villa Park. If they can keep him out of the game, they should be heading back up the M6 with another huge three points. We say this, but United somehow managed to draw with Villa at home back in December, so anything is possible.
By no means will Villa roll over here with so much at stake, but with one win in their last five games, there's no excuse for United not to pick up another win.
Verdict: Win
Points Tally: 56
---
Matchday 35: Southampton (Home) When Southampton were completely annihilated 9-0 by Leicester City back in October, Ralph Hassenhuttl's time as Southampton head coach looked destined to be over.
That loss proved to be a turning point, however, with the Saints looking much better ever since. Despite being rather inconsistent, they've picked points off the likes of Spurs, Arsenal and Chelsea since that harrowing defeat. They headed into the enforced break with just one win from their last five, but cannot be written off as an easy game.
Somehow, Manchester United might struggle here. Southampton will be up for nabbing points off another big side, and will stop United from achieving four consecutive league victories.
Verdict: Draw
Points Tally: 57
---
Matchday 36: Crystal Palace (Away) Selhurst Park is never the easiest place to go, but Manchester United have already lost to Crystal Palace once this season and will be desperate not to have a repeat.
After Daniel James infamously stood tall in celebration with an 89th minute equaliser at Old Trafford back in September, Patrick van Aanholt's injury-time winner left him and his teammates red faced. Palace went into the enforced break off the back of three straight wins, but United will be out for revenge in London.
A win is a must here for the Red Devils, and it's what they'll come away with.
Verdict: Win
Points Tally: 60
---
Matchday 37: West Ham (Home) United's final league game at Old Trafford for the 2019/20 season sees them host West Ham, who very much need a good run of results in order to avoid an embarrassing relegation to the Championship.
With how close things could be toward the final games of the season, both United and West Ham will be desperate for all three points in order to keep themselves above the water in their respective battles. The Hammers might run out of steam toward the end of the season however, especially if they can't get the likes of Felipe Anderson firing.
Ultimately, United's edge in quality will see them through this one.
Verdict: Win
Points Tally: 63
---
Matchday 38: Leicester City (Away) After a run of very favourable games for Manchester United, they bow out with a visit to the King Power Stadium in what could be an exciting match.
With both clubs seeking to secure Champions League football, and the race for the coveted spots being so close, it could go down to the wire. United will struggle against an incredibly exciting Leicester side being built under Brendan Rodgers, who currently sit third place behind only Manchester City and Liverpool.
A win against United could be the icing on the cake in an incredible season that has shown that Leicester are a serious threat and breaking the mould of the top six. Having lost at Old Trafford, Leicester will even the odds on the final day with a victory.
Verdict: Loss
Points Tally: 63
---
Source :
90min