Have you ever had one of those awkward moments where you bump into an old acquaintance, and there they are, chatting away, but you can't remember their name for the life of you?
They continue their monologue, while you nod politely, frantically running through every name under the sun, desperately trying to conjure the correct greeting for this forgettable face. "John? James? Jeff? Ann Marie? ...Ann Marie?"
With no viable alternatives, and your pride at stake, there's only one option left. "Yeah, great to see you too, pal." Other options include 'mate, buddy, dude, bruv, or friendilino.'
Unfortunately for those in the public eye, this fool-proof escape plan is not a possibility. And when they get it wrong, it's often pretty spectacular. So, to commemorate the classic howlers of the game's coaches - and now politicians - 90min takes a look back at some footballers who suffered the misfortune of gaining an unwanted extra name.
---
Marcus 'Daniel' Rashford
Let's start with Wednesday's clanger, shall we? Marcus Rashford has just single-handedly ensured that millions of hungry children will be fed over the summer months, and he has firmly established himself as a very good egg - possibly the best egg in football.
And the thanks that he gets? That's right - being called 'Daniel' on live television by one of the most important figures in the British government. Clearly, football is not Matt Hancock's field of expertise, but as one of the men who has taken the most flak in recent months, this was an easy opportunity to score some points.
Unfortunately, he's turned it into the back of his own net.
---
Chris 'Mike' Smalling
Rashford's not the first Man Utd star to receive this treatment. Unfortunately for Chris Smalling, he was misnamed by his own manager, Louis van Gaal - whilst sitting next to him. As the Dutch coach was building up the towering centre-back as the Red Devils' third-choice captain, he pointed in his direction and labeled him 'Mr Mike Smalling.'
Cue confused glances and suppressed giggles in the press room. Although Van Gaal's reign as United coach is remembered for the stodgy and gruelling football, his performances on the touchline and in press conferences have confirmed his status as a proper legend.
---
Will 'Michael' Keane
Time for another Van Gaal special. This one is potentially a tad more forgivable, though. Once upon a time, Will Keane was a Man Utd prodigy. The young striker was destined for great things, but sadly, his Old Trafford career never took off.
And when discussing the youngster's future, Van Gaal said, "Now Michael Keane must do it by himself." Classic mix up. In fairness to Louis, Will is actually the twin brother of Everton star, Michael. Easy mistake to make.
---
Yohan 'Kebab' Cabaye & Hatem Ben 'Afra' Arfa
A classic one-two here. In fairness, ex-Newcastle United boss Joe Kinnear is going to feature a lot from hereon in, so we had to double up on this pair to shorten his lengthy list of gaffes. Having been appointed as the Magpies' director of football in 2013, Kinnear set about upsetting just about everyone he could at the club in his first interview.
And while speaking to TalkSport, the Newcastle chief managed to get the names wrong of a number of his stars. In this particular clip, French midfielder Yohan Cabaye is embarrassingly crowned 'Yohan Kebab', while attacking jewel Hatem Ben Arfa becomes 'Ben Afra'. Cringe.
---
Shola 'Amamobi' Ameobi
That wasn't the only blunder in the interview, either. Kinnear later went on to discuss players who had been part of the Newcastle side he managed in 2008, fondly remembering the excellent shot-stopper Tim Krul. So far so good, Joe.
He then gave an honourable mention to the Ameobi brothers, Shola and Sammy, but in typical Kinnear fashion, it came across as more of an insult, referring to the forward as 'Shola Amamobi'. So close, Joe.
---
Charles 'Insomnia' N'Zogbia
But alas, here we have possibly the biggest pronunciation error of the coach's career. Before becoming the director of football at Newcastle, Kinnear had been appointed as the club's manager in 2008, hoping to rescue them from relegation.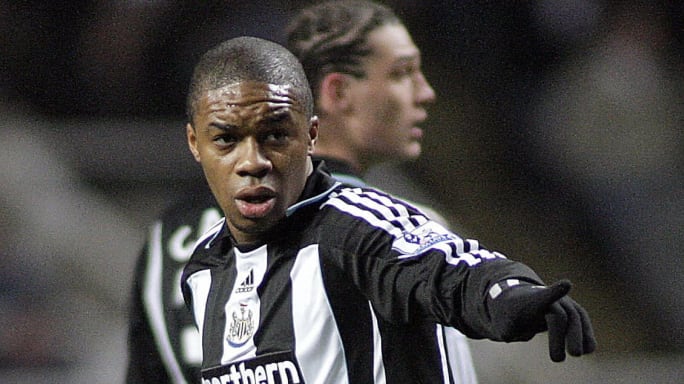 One man who was not part of his plans though, was Charles N'Zogbia. The winger went on strike, determined to leave St James' Park, and Kinnear slammed him in a post-match press conference, before calling him 'Charles Insomnia.'
I wonder if Kinnear has had any sleepless nights over that one. Badum, tsssh.
---
Bryan 'Bobby' Robson
There must be something in the water on Tyneside. Luckily, when someone as legendary as Sir Bobby Robson drops the ball, we can all get behind it. And the legendary manager once managed to mix up his own name with that of ex-England captain Bryan Robson. Upon greeting the star, Bobby said, "Good morning Bobby', to which Bryan replied 'I'm Bryan, you're Bobby!" What a wonderful man.
---
While pronunciation can be troublesome for many of us, spelling can pose an equally stern test for others. And so, we leave you with a list of honourary mentions for players whose names proved one step too far for the kit printers.
Source :
90min